The Carolyn Bryant Project
Created by
Nataki Garrett and Andrea LeBlanc
Directed by
Nataki Garrett
Location
CalArts Walt Disney Modular Theater (MOD)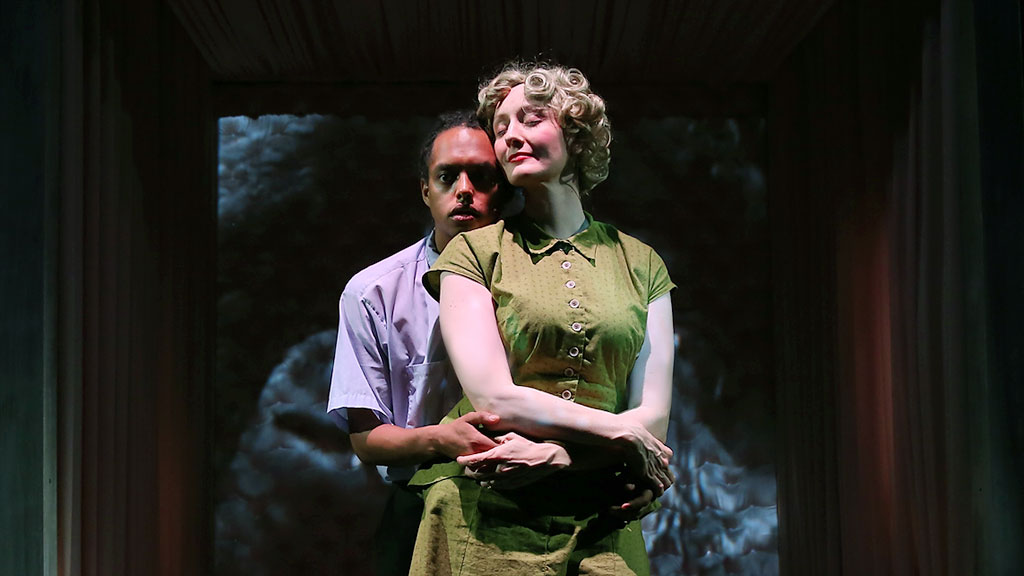 New York Times Critic's Pick
Back for a limited engagement at CalArts, experience this powerful work live!
Emmett "Bobo" Till, a 14-year old Chicago youth, walked into a store in Money, Mississippi to purchase 5-cents worth of bubble gum from Carolyn Bryant, a 21-year old, white mother of two. Within a few days of this interaction, Till's beaten and bloated body was found tied to a cotton-gin fan in a shallow part of the Tallahatchie River. Bryant's husband Roy and his brother JW Milan would be acquitted of Till's murder by an all-white male jury, only to confess to the murder a year later in a Look Magazine article. Carolyn Bryant maintained a public silence about that day for six decades, until 2017.
What happened in those fateful minutes shared between Bryant and Till in the store? Creators Nataki Garrett (Artistic Director at Oregon Shakespeare Festival) and Andrea LeBlanc (Associate Dean of the CalArts School of Theater) layer historical transcripts, video imagery, and re-imagined encounters to expose what lies beneath the exchange between Carolyn Bryant and Emmett Till in Mississippi in 1955. Piecing together fragments of a distant era, Garrett and LeBlanc's excavation traces terrifying parallels to America today.
Cast
Emmett Till, Jacob Romero Gibson
Carolyn Bryant, Andrea LeBlanc
Scenic Designer, Eli Smith
Costume Designer, X. Hill
Lighting Designer, Christopher Kuhl
Original Sound Design, Daniel Gower
Sound Designer, John Zalewski
Assistant Sound Designer, Nick DePinto
Video Designer, Edgar Arceneaux
Associate Video Designer, Hsuan-Kuang Hsieh
Choreographer, Mecca Vazie Andrews
Assistant Scenic Designer, Jalen Colbert
Assistant Lighting Designer, Claire Chrzan
Stage Manager, Topher Rohrer
Assistant Stage Manager, Ducky Anderson
Assistant Stage Manager, House Dow
Production Manager, Chris Swetcky
Producer, Rachel Scandling
Associate Producer, Rui Xu
Associate Production Supervisor, Katherine Paez Froehlich
Associate Production Supervisor, Percent Han
Legal Services, Don Franzen
Hair and Makeup, Elisa Abend-Goldfarb
CalArts Center for New Performance
Executive Artistic Director; Dean, CalArts School of Theater, Travis Preston
Producing Director, Rachel Scandling
Director of Duende CalArts; Producing Artist, Marissa Chibás
Producing Artist, Daniel Alexander Jones
Associate Artistic Director, Amanda Shank
Associate Artistic Director, Chi-wang Yang
Director of Communications, Paul Turbiak
Director of Production, Chris Swetcky
Consulting Producer, George Lugg