Performance Schedule
To manage volume and English captioning, hover cursor and click on the speaker or subtitles button in the lower right corner of the video player. This series airs over the course of the festival, right here on the site. See below for the performance schedule and select on-demand times.
May 4, 2021 7:00 pm PDT | Episode 1 (available until May 5th, 11:59PM PST)
Run time: 45 minutes
May 8, 2021 7:00 pm PDT | Episode 2 (Episode 1 and 2 available until May 9th, 11:59PST)
Run time: 50 minutes
May 13, 2021 7:00 pm PDT | Episode 3 (Episodes 1-3 available until May 14th, 11:59PST)
Run time: 40 minutes
Written by Alex Lubischer
A documentary film crew descends upon the small town of Milton, Nebraska to capture the community's individual and collective responses and realities in the aftermath of a violent tragedy. Unexpectedly (and at times disturbingly) funny, Bobbie Clearly looks at the intimate ways in which we grieve as human beings in an unjust world, how we attempt to make sense of the senseless, and whether or not that is even possible.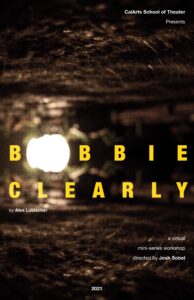 "Bobbie Clearly" is presented by arrangement with Concord Theatricals on behalf of Samuel French, Inc. www.concordtheatricals.com
New York Premiere Produced by Roundabout Theatre Company as part of the Roundabout Underground at the Harold and Miriam Steinberg Center for Theatre on April 3, 2018.
First produced in September 2016 by Steep Theatre Company in Chicago, Illinois.
Director's Notes:
TEN YEARS ON AND COLUMBINE STILL FEELS THE PAIN
The Guardian, 4/11/2009 | Columbine
"A decade on, and talk of 'closure, and 'getting over it' is anathema to these people. Yes, they survived. But survival was not a question of forgetting: it was choosing how best to live with remembering…
"For the last 10 years Ted has not wanted to talk publicly about what happened. He found it too painful. Most of the media attention was focused on those who were killed, or on the few families who spoke out. 'It has taken 10 years for different perspectives of that day to be heard,' says Katherine. 'There were layers of people – the children who were injured, the families, the Swat teams, the pastors, the counsellors. It was a ripple effect. You don't come out of a situation like that and not be deeply affected… 
"'You never get over it,' Ted concludes. 'You can't. It is how you deal with it that defines you.'"
AFTER NEWTOWN – Episode: "Gone Boy"
PBS, 2/22/2013 | Bard's College at Simon's Rock
MARIA HINOJOSA: When Gibson's book came out in 1999 – the same year twelve students and a teacher were killed at Columbine — Gibson received a letter from from Wayne Lo, who'd read his book… and an unlikely correspondence between the two began.
Most people would say, "You want to be in contact with the man who took your son away?"
GREG GIBSON: Yeah. That's a little odd, isn't it? I think my family feels that way. It's, "what's going on with him?"
MARIA: They don't want to-
GREG: No. Who would? Well, I would for some reason. I don't know why
MARIA: Wayne Lo apologized for taking your son.
GREG: Yeah.
MARIA: You accept that apology?
GREG: I don't know what else I can do. Do I forgive him? I- I don't know what that means. I don't want to kill him back. But he's sure not my buddy. I'm not hanging out with him. We have this language for coming to terms with and forgiving. We've got it all kind of laid down like this. And I just always thought that was- if it were that easy, if it were that simple, how lovely that would be. But I have not found it that simple at all. I found it complicated and-and again, as many ways to do it as there are people. So, in some weird way this conversation I've got with the man who murdered my son is a way that I can try to understand, you know, what happened, how I should go about this.
Creative Team
Written by Alex Lubischer
Josh Sobel, Director/Co-Director of Photography
Madi Thoele, Darla London
Konstantinos Manesiotis, Derek Nelson
Hasti Bakian, Megan Currie
Olivia Michael, Meghan Gotschell
Gondré the Wordsmith, Mitch Backes
Juan Ayala, Pete Pfeifer
Alejandra Jaime, Brynne Scott
Mary Pumper, Jane Welch
David Blindauer, Stanley Welch
Harry Golby, Bobbie Clearly
Brian Drummy, Eddie Welch
Chun-Wei Wang, Scenic Designer
Tanvi Desai, Costume Designer
ry burke, Lighting Designer/Co-Director of Photography
Emily Eisenstein, Supervising Editor/Video Designer/Co-Director of Photography
Edwin Livingston, Original Score
Jack Weiss, Sound Designer
Madison Lynch, Tap Choreographer
Alejandra Jaime, Fight Choreographer
Connor Linnerooth, Video Editor
Brian Drummy, Video Editor
Alexis Randolph, Video Editor
Rafael A. López, Graphic Designer
Patrick Smith, Properties Designer
Marissa Leticia Jacobo-Correa, Stage Manager/Co-Production Manager
Brooke Harbaugh, Producer/Co-Production Manager
Jordie Marie Rippon, Puppet Designer/Festival Production Stage Manager
Cian Pickron, Festival Associate Production Supervisor
Chris Swetcky, Production Manager