Scene with Cranes
Directed by
Chi-wang Yang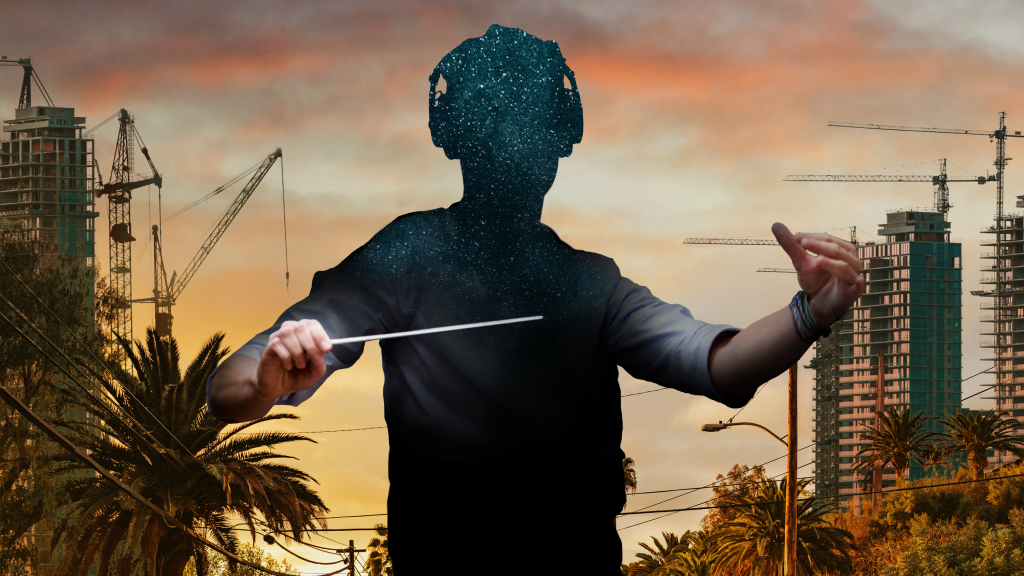 Image courtesy of Miwa Matreyek. Photos by Gema Galiana.
Known for plays of satire, mythology, and steely realism, Octavio Solis is considered one of the most prominent Latino playwrights in America. In this world premiere production, a tight-knit East LA family is left shattered in the wake of their youngest son's mysterious death. Devastated, the mother retraces her son's final steps in search of the truth. In his signature blend of classic and contemporary, Octavio Solis parallels Jean Sibelius' musical masterwork in a play of the same name. Exquisitely visceral, Chi-wang Yang's direction of
Scene with Cranes
navigates the many avenues of loss, leaving us stranded in a meditation on grief.
About the Artists
Octavio Solis
is a playwright and author whose works 
Quixote Nuevo, Mother Road, Lydia, Hole in the Sky, Alicia's Miracle, Se Llama Cristina, John Steinbeck's The Pastures of Heaven, Ghosts of the River, June in a Box, Lethe, Marfa Lights, Gibraltar, The Ballad of Pancho and Lucy, The 7 Visions of Encarnación, Bethlehem, Dreamlandia, El Otro, Man of the Flesh, Prospect, El Paso Blue, Santos & Santos,
and
La Posada Mágica
have been mounted at the Hartford Stage, the Huntington Theatre, the Houston Alley Theatre, Roundhouse Theatre, PCPA Conservatory Theatre, Cara Mia Theatre, California Shakespeare Theatre, Mark Taper Forum, Yale Repertory Theatre, the Oregon Shakespeare Festival, the Denver Center for the Performing Arts, the Dallas Theater Center, the Magic Theatre, Intersection for the Arts, South Coast Repertory Theatre, the San Diego Repertory Theatre, Shadowlight Productions, the Venture Theatre in Philadelphia, Theatre @ Boston Court, the Kitchen Dog Theatre, Teatro Vista, El Teatro Campesino, the Undermain Theatre, Thick Description, Campo Santo, INTAR, and Cornerstone Theatre. His collaborative works include
Cloudlands
, with Music by Adam Gwon and
Shiner
, written with Erik Ehn. Solis has received an NEA 1995-97 Playwriting Fellowship, the Kennedy Center's Roger L. Stevens award, the Will Glickman Playwright Award, the 1998 TCG/NEA Theatre Artists in Residence Grant, the 1998 McKnight Fellowship grant from the Playwrights Center in Minneapolis, and the National Latino Playwriting Award for 2003. He is the recipient of the 2000-2001 National Theatre Artists Residency Grant from TCG and the Pew Charitable Trust, the United States Artists Fellowship for 2011, the 2014 Pen Center USA Award for Drama, and the 2019 Guest Artist Honoree for the William Inge Center for the Arts. Solis is a Thornton Wilder Fellow for the MacDowell Colony, New Dramatists alum, a member of the Dramatists Guild, and a 2020 inductee into the Texas Institute of Letters.  His book
Retablos: Stories From A Life Lived Along The Border
is published by City Lights Publishing.
Chi-wang Yang
is a Los Angeles-based theater director and interdisciplinary artist. Whether in the form of plays, operas, concerts, or installation, his work is physical, experimental, and collaborative. He is committed to expanding notions of identity and theatrical form and to exploring strange encounters of body, emotion, and technology. He is a founding member and co-artistic director of video performance collective Cloud Eye Control. Chi-wang is a faculty member of the California Institute of the Arts School of Theater, where he teaches acting and serves as Associate Artistic Director of the CalArts Center for New Performance. He received his MFA in Theater Directing and Integrated Media at CalArts and his BA from Brown University. His work has been presented internationally at theaters, museums, and festivals including REDCAT, SFMoMA, Fusebox Festival, PICA TBA, San Francisco International Film Festival, EXIT Festival (France), Santiago a Mil (Chile), Manipulate (Scotland), Havana Film Festival, and the Edinburgh Fringe.
mysteriously.org
Scene with Cranes is supported in part by an award from the National Endowment for the Arts. Co-presented with REDCAT. Produced by CalArts Center for New Performance.
Cast
Marissa Chibás, Lourdes
Emilio Garcia-Sanchez, Angel
Stacia Marcum, Ruby
Isaias Alexander Miranda, Nico
Angela Rosado, Letty
Hilario Saavedra, Ramiro
Tony Sancho, Lieutenant David Leyva
Hannah Trujillo, Yolie
Alec Anderson-Carrasco, Understudy (Nico, Angel)
Camila Ascencio, Understudy (Ruby)
Cheryl Umaña, Understudy (Lourdes)
Oscar Camacho, Understudy (Angel)
Armando McClain, Understudy (Leyva/Ramiro)
Josephine Núñez, Understudy (Yolie)
Jeannette Srinivasan, Understudy (Letty)
Creative Team
Director: Chi-wang Yang
Playwright: Octavio Solis
Scenic Designer: Efren Delgadillo Jr.
Lighting Designer: Christopher Akerlind
Costume Designer: Edurne Fernandez
Music and Sound Designer: Cristian Amigo
Stage Manager: Maria V. Oliveira
Production Manager: Chris Swetcky
Producer: Rachel Scandling
Assistant Director: Rory James Leech
Assistant Scenic Designer: Benny Pitt
Assistant Lighting Designer: Cad Apostol
Assistant Lighting Designer: Kenzie Caulfield
Assistant Costume Designer: Karen Ayala-Gaytan
Assistant Sound Designer: Clare Marie Nemanich
Assistant Video Designer: Zoë Lappin
Assistant Stage Manager: Theo Anderson
Assistant Stage Manager: Macy E Kunke
Associate Production Manager: Nicole Theep
Associate Producer: Rui Xu
Dramaturg/Voice Coach: Micha Espinosa
Dialect Coach: Cynthia Santos DeCure
Movement Specialist: Jessica Emmanuel
Intimacy Coordinator: Emily Barasch
Fight Choreographer/Captain: Tony Sancho
Physical Therapist Movement Specialist: Frances Gramaje
Casting Director: Nicole Arbusto
Props Master: Patrick Smith
Assistant Props Master: Natalie Ferguson
Costume Shop Director: Victor Sandoval Torres
Costume Shop Manager: Hunter Wells
Master Carpenter: Grayson Basina
Master Electrician: Kate DeWall
Head Electrician: Alejandro Melendez