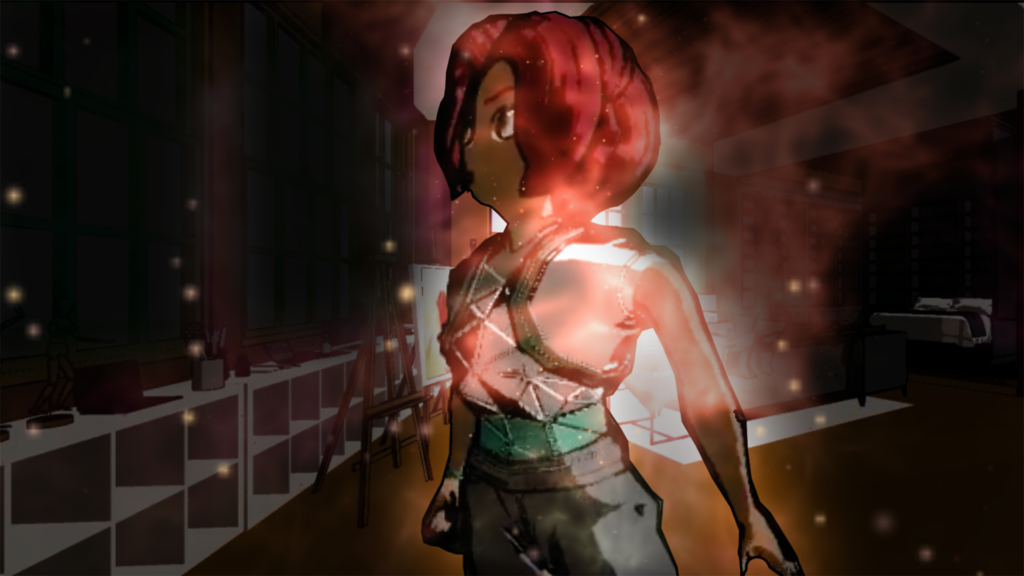 Visit this project's website
To Remember a Friend Official Website
Performance Schedule
Join the artists on Twitch for a live experience of the video game followed by a Q&A with the creative team.
May 6, 2021 5:00 pm PDT
May 6, 2021 8:00 pm PDT
May 7, 2021 6:00 pm PDT
May 8, 2021 2:00 pm PDT
May 8, 2021 5:00 pm PDT
Run time: 60 minutes
To Remember a Friend is a Virtual Reality game developed by Kathleen Fox and her team from CalArts and beyond. From May 6th – 8th, join us for the first-ever live stream showing of the game on Twitch.tv followed by a Q&A with the creative team. You will have the opportunity to make decisions about how the story unfolds and experience the play-through in real-time.
About the game: The year is 2040. A young woman named Jane Watson has been murdered in her apartment. No one knows what happened… but you plan to find out. You play as Whitlock, a rookie detective undergoing an experimental consciousness transfer procedure with the comatose sole witness to the murder. In this virtual reality narrative adventure game, you must work to uncover what really happened to Jane Watson, but just remember that memory is fluid, and those around you all have an agenda…
If you are interested in chatting and interacting with the performance, a Twitch account is required. You can sign up for one here: twitch.tv. You can view the performance without an account, but you will be unable to interact with the livestream or ask questions during the talkback. 
Creative Team
Kathleen Fox, Creative Director/Programmer/Writer
Henry Albright, Writer
Chris Duran, Concept Art
Catherine Frey, Graphic Designer
Jack Frey, Programmer
Cameron Leonard, Production Assistant
Simon Magno, Creative Producer
Jared Pixler, Creative Producer
Bridget Rooney, Production Manager
Violet Smith, Lighting Designer
Chun-Wei Wang, Set Designer
Lydia Wang, 3D Character Modeler
Elliot Yokum, Sound Designer
BK Dawson, Voice of Jack/Motion Capture
Kion Heirari, Voice of Matt
Jade V. Robinson, Voice of Gwen
Kat Walker Shea, Voice of Jane/Motion Capture
Socks Whitmore, Voice of Christie